HONG KONG — Former Chinese President Jiang Zemin, who led China in the years after the Tiananmen Square protests and oversaw its rise as a global economic power, died in Shanghai on Wednesday, according to China's state-run news agency. He was 96.
The cause was leukemia and multiple organ failure, the ruling Communist Party said in an announcement that was carried by Xinhua.
In a letter to the party, the military and the Chinese public, Xinhua said, officials described Jiang as "a great Marxist, a great proletarian revolutionary, statesman, military strategist and diplomat, a long-tested communist fighter, and an outstanding leader of the great cause of socialism with Chinese characteristics."
Nicknamed "The Toad," Jiang was born Aug. 17, 1926, to a middle-class family in Yangzhou, an eastern city that was historically one of the wealthiest in China. After graduating from university with an engineering degree in 1947, he worked at state-controlled factories, including one that made soap. His career was interrupted by the 1966-1976 Cultural Revolution, part of which he spent doing farm labor like many other officials.
In 1985, Jiang became mayor and later party secretary of Shanghai, China's most populous city. He was preparing to retire when a pro-democracy political movement emerged in the spring of 1989, ending in the June 3-4 massacre of protesters in and around Tiananmen Square in Beijing.
Jiang initially served as a transitional figure, becoming general secretary of the Chinese Communist Party — China's most powerful position — weeks after the massacre. His surprise appointment was a compromise in a divided party after his predecessor, Zhao Ziyang, was ousted over his support for the protesters.
By the early 1990s Jiang had consolidated power, with crucial support from his Shanghai-based party faction and the 2.3 million-member People's Liberation Army.
As president from 1993 to 2003, Jiang presided over market-oriented economic reforms, China's 2001 ascension into the World Trade Organization, and the awarding of the 2008 Summer Olympics to Beijing that same year. The territories of Hong Kong and Macao, both former colonies, were returned to Chinese rule by Britain in 1997 and Portugal in 1999, respectively.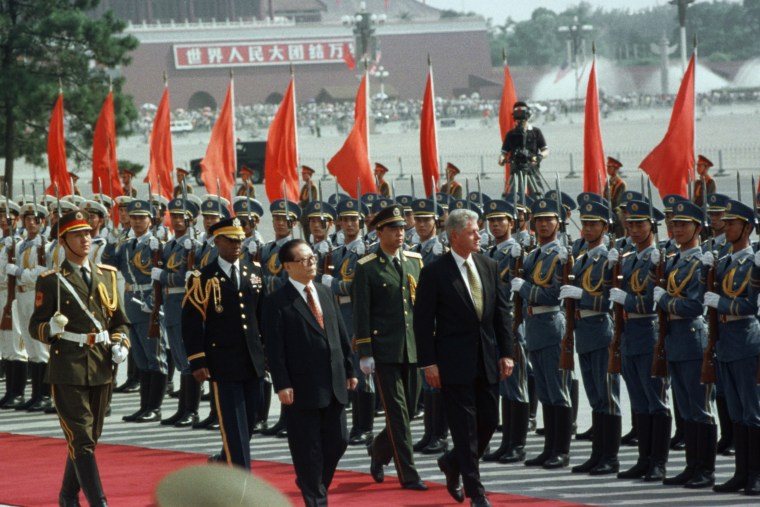 But Jiang had little tolerance for domestic dissent, believing that stability was more important than political reforms. In addition to jailing activists and intensifying government control of religious affairs in Tibet, he also banned the Falun Gong, a popular religious movement founded in the early 1990s that he saw as a threat to Communist Party rule.
Overseas, Jiang prioritized rebuilding ties with the United States and other countries after years of Chinese isolation over the response to the Tiananmen protests. Those efforts paid off as China transformed into a global manufacturing powerhouse and secured greater foreign investment, though the rapid economic growth also contributed to rising inequality.
In 1997, Jiang made a state visit to the United States, during which he and then-President Bill Clinton downplayed differences over human rights and other issues. The following year, Clinton became the first U.S. president to visit China since 1989. At a news conference in Beijing during Clinton's visit, Jiang said the two countries were "partners, not adversaries."
But the U.S.-China relationship was also marked by tensions, including over the self-ruling island of Taiwan, which Beijing claims as its own territory. In 1996, as Taiwan was holding its first direct presidential election, the U.S. sent warships into nearby waters after Jiang's government fired missiles there.
The Chinese public was also outraged by the deadly 1999 bombing of the Chinese Embassy in Belgrade by U.S.-led NATO, which Clinton said was an accident. In 2001, China held a U.S. Navy spy plane and its 24-member crew for 10 days after a midair collision with a Chinese fighter jet near the island province of Hainan.
In 2002, Jiang was succeeded as party leader by Hu Jintao, in the first orderly transfer of power since the founding of the People's Republic of China in 1949. But he remained a hugely influential political figure even after he gave up his last title, chairman of the Central Military Commission, in 2004, backing the rise of China's current leader, Xi Jinping.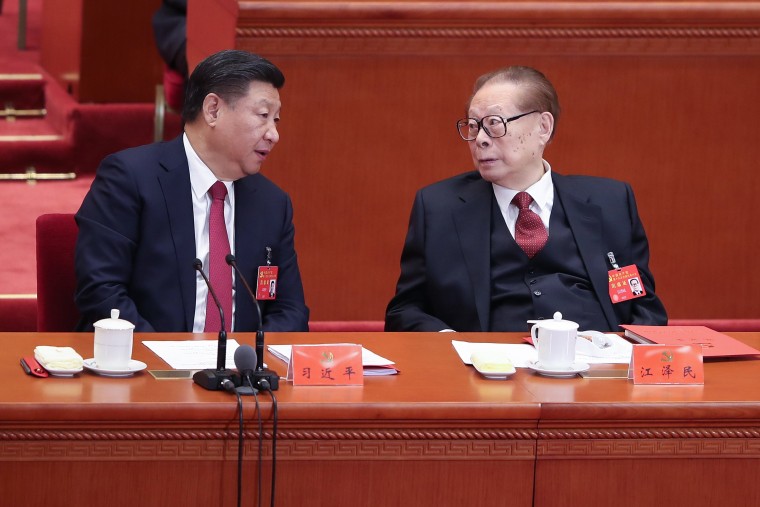 Jiang had rarely been seen in public in recent years, last appearing at a 2019 military parade in Beijing celebrating the 70th anniversary of the founding of the People's Republic of China. Though former Chinese leaders are often at major political events, Jiang was not in attendance at the Communist Party congress last month where Xi secured a historic third term in power.
Jiang is survived by his two sons and his wife, Wang Yeping.
Associated Press contributed.